of SAHF working-age residents have health insurance, compared to only 79% of low-income Americans
SAHF believes that health begins at home – and a safe, stable home is essential for health. To realize the full benefits of housing as a platform for creating healthier and more equitable communities, housing design, operations, and services must be connected in a way that creates healthy environments, provides resources to residents, AND prioritizes resident agency and gives residents decision-making power and choice to shape their homes.
Beginning with trauma-informed design, quality building materials, and appropriate energy and water management strategies, SAHF members prioritize resident wellness and good health. By connecting homes with services, such as health and wellness programs, digital access and adoption support, engagement addressing social isolation, financial coaching, food access or youth programs, SAHF and its members have seen residents experience transformative outcomes. 
of SAHF working age residents had a routine check-up in the past year, compared to only 66% of Low-Income Americans
SAHF also uses the work of our Resident Health and Outcomes Initiative to support and scale partnerships across sectors to expand the supply of affordable rental homes and support the delivery of services in order to improve resident health. Examples of this include partnering with financial and healthcare actors to bring in additional sources of capital, exploring the potential to leverage community health worker and digital navigator models in a housing setting, and engagement on HUD's iWish study to support more robust services that foster aging in place.
Our partnership with UnitedHealth Group and National Affordable Housing Trust on the Health & Housing Fund is one example of how we are working to create new service-enriched housing that leads to better health and outcomes. Through the Health & Housing Fund, housing providers have accessed capital to create and preserve homes and can access funding to support services that improve resident health and SAHF is tracking outcomes and partnering with United Health Group to understand the impact.
Measuring Resident Agency
This guide outlines measures and data gathering practices that will allow practitioners to contemplate how to measure organizational policies and approaches that support resident voice and agency while also building off measures many housers are already gathering.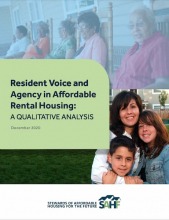 Resident Voice and Agency in Affordable Rental Housing: A Qualitative Analysis
An exploration of existing strategies and barriers to collaborating with residents to promote greater resident agency and voice at both organizational and property levels.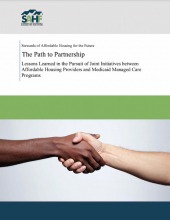 The Path to Partnership
Lessons learned in the pursuit of joint initiatives between affordable housing providers and Medicaid Managed Care programs.